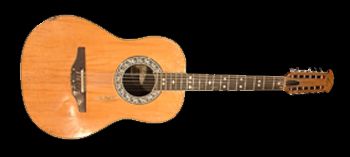 Cliff Erickson is considered one of the finest acoustic performers throughout the Midwest and southwestern Ontario.  His musical instincts are clearly portrayed in his original work along with his amazing ability to capture the passion evoked by countless cover tunes.  His soothing voice and his extraordinary talent on his signature 12-string acoustic guitar captivate his listeners as he takes them along on what has been best described as an "unparalleled musical excursion."   
Cliff's two albums, Rendezvous and Acquired Taste, released by Accurate Records, capture the essence of acoustic songwriting.  Sales of his Christmas album, The Spirit of Christmas, released in 2005, raised thousands of dollars for victims of Hurricane Katrina.
From cruise ships in the Greek Isles to venues across the U.S. and Canada, Cliff has electrified audiences for over 30 years.  He sang the national anthem for the Detroit Tigers, the Toronto Blue Jays, the Cleveland Cavaliers, and others.  He regularly performs at universities, conventions, and corporate gatherings.  Multiple generations of loyal fans commonly travel long distances and through international crossings to experience Cliff's performances.  
Top stars in the industry have selected Cliff to open their show.  They include Ringo Starr, Kenny Rogers, The Beach Boys, Wynona Judd, and America. In fact, America recently invited Cliff to join them for their stirring encore of "A Horse With No Name."  Also, when asked to entertain at Kid Rock's birthday party, he played through the night.  On one occasion, when Cliff invited Harry Chapin to perform on his stage, Harry stated, "You're a hard act to follow."  Clearly, nationally acclaimed musicians respect his talent.
Cliff's fans love him like a best friend while music aficionados regard him as the ultimate mentor. His warm and engaging personality transcends the big stage as seen in his interactive performances at elementary schools, homes for senior citizens, and charitable events.
For decades, Cliff's show has left audiences with lasting memories. Indeed, Cliff Erickson is one of those artists that come along once in a lifetime.